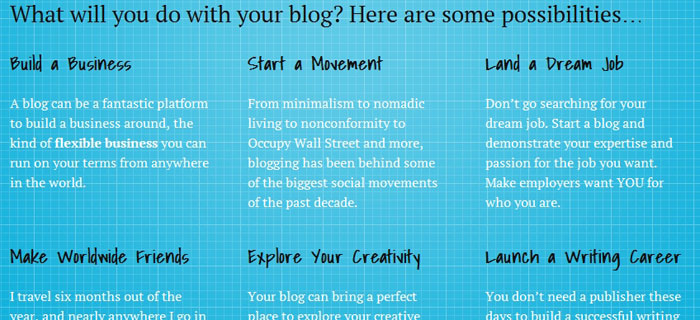 Corbett Barr has a new course out today called, "How to Start a Blog that Matters" (timely note: this course is on sale for the next few days). It struck me because I get this question from most clients when they approach me to design their new company (or individual) website, "Should I be blogging?" The answer, if you want to cut to the chase, is yes. But the real question is why you should be blogging. If you can answer that one, you might be ready for the next one: will I succeed blogging? If you care about whether or not you might succeed, you're probably a good candidate for Corbett's course. As he puts it, "Anyone can create a blog in 5 minutes, but very few people will create blogs that matter."
What is blogging?
A related question, and one that often comes after the "Should I blog?" question is, "What is blogging really, anyway? I mean, I don't want to write about the movie I saw last night with my cousin." And no one wants to read that, either. Not even your cousin.
For those, well, new to the In-ter-net, a blog might be seen as a column in a newspaper or a magazine: Regularly published articles about a topic or range of topics.
But a blog might also be the entire newspaper or magazine, still with the same definition (articles on a topic). Let's stick with the magazine analogy for now. You're probably asking, "Why would I want to start a magazine? I'm in the XYZ business!" Basically, it works like this. If you publish relevant content on a regular basis that's useful to your audience, your audience will (eventually) find you thanks to Google's search engines. "I don't want them to find my website, I want them to hire me to do the XYZ business. Furthermore, I don't get business through the Internet, I get business from referrals and past clients." Yes, yes, I see your point. But if your blog is useful and it brings traffic (visitors) to your site, Google will increase the ranking of your site and people will find you more easily–your Google page rank will increase and you'll be higher up on the search engines' results pages. Magazine analogy: more people will read the magazine so more people will see your article. Or let's use a brick and mortar analogy: more people will pass by your shop and see what you have in the front windows. If it's useful, they might come in. That would mean possible new business. With me so far?
A magazine? Do you mean I have to write?
But the success of a magazine doesn't happen overnight. It takes consistent high quality content over time. Just because it's online doesn't mean it's going to be a faster success. It takes time to build up a reputation, a following, a Google ranking, and an audience. It takes determination and persistence. It also takes quality.
High quality content over a long period of time on a regular basis. Sounds like a lot of work. It is.
Magazines come and go, only the top notch stick around for any amount of time. What is it that makes the good ones so good? Why do they have a following? Are their followers passionate? Are the followers helping the bottom line of the business?
OK, I'm determined. Now what?
If I haven't scared you off yet, good. But now what? You're ready to start your blog. Pen in hand, sorry, keyboard ready, set, go! What do I write about? How often do I write? How do I promote what I'm writing? Should I write what my competition is writing? Should I form alliances with them? They're all real questions. You can find the answers scattered around the Internet, but if you're like me, some motivation, some hand holding, and some accountability could help.
How to Start a Blog that Matters is a 90-day action plan for starting a new blog from the ground up. It includes 13 weekly lessons and step-by-step action plans.
Check out the course and see if it's for you.