Looking for Hot Sexy Stories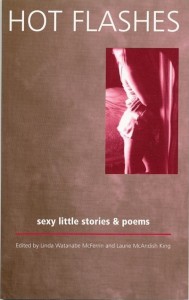 ? The women of "Hot Flashes" (hotflashessexystories.com) are on a mission: We think that the pleasures of being human and "in the flesh" get short shrift in our daily lives. They needed a site to help promote their books invite reader and writers for future books, and sell their steamy stories.
Now Available at a special e-book price: Buy the new Hot Flashes E-Book for only $0.99! (You can still get the Amazon hardcover for $14.95.)
It's about love-about a good old erotic hankering for everything hot and steamy, warm and juicy, tasty, fragrant, visually exciting and vibration-filled. It's about quickies: flash fiction, non-fiction and poetry guaranteed to raise a reader's temperature in a way that is positively hormonal. These sexy short stories and poems demonstrate how simple it is to find pleasure almost anywhere when we are willing to slow down and attend to our feelings, our memories, and our senses.
Excerpt from "Takeout":
Gina slickened her fingers and her face with the dripping noodles, rubbing them against her lips, widening the circles to include her chin and her cheeks, and touching her tongue to her hand. She could easily smother herself. Instead, she moved her hand, still full of the food, to the base of her throat, the edge of her silk blouse. She released the handful. It slid down inside her blouse, creaming her breasts and her belly.

"Join me," she said-less an invitation than a command.
If you liked these stories, you'll probably also like Laurie McQueen's An Erotic Alphabet.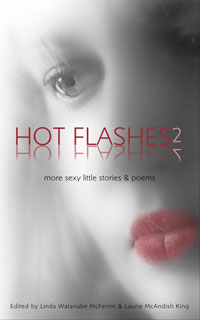 Excerpts from the second edition, Hot Flashes and Sexy Stories 2
The Smell of Water

I imagined the moist hairline down his stomach pointing the way to his tumescent dick touching her wet thigh. They probably laughed together in the steam while her big breasts jiggled against his chest and the clear shower door.

– Jill Kelly
Supple Wings

I half-expect him to stop me, tell me I'm not his type, but instead he holds me closer, his breath warm as he seeks my ear, neck, curve of jaw leading to lips. His are soft, moist, hungry, and I want to feed him as prodigiously as I want to be fed. Our lips and tongues flick and roll as that cold smooth ball taps channels flowing to breasts, navel, veiled lips pulsing with blood. My thumb and forefinger sandwich his left nipple, rising hard. I flip the ring up and down, aching to slide as gracefully as that slender loop along his skin.

– Elizabeth Weaver